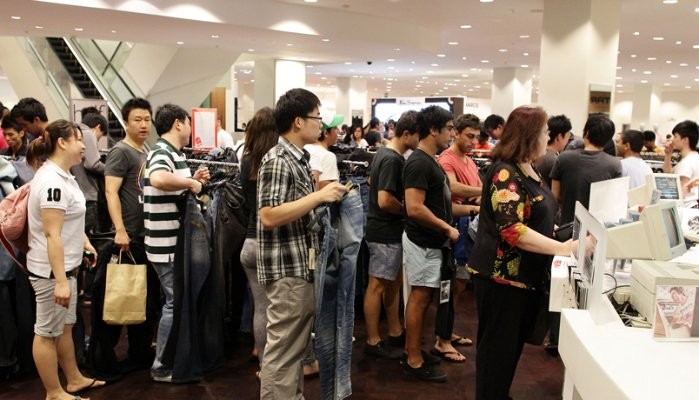 The retailer's Christmas nightmare – and how to avoid it this year
It's a week before Christmas, your store is packed, and goods are moving off the shelves as fast as you can replace them. But….queues are growing, customers are getting disgruntled and some are just giving up and leaving without buying. This is every retailer's worst nightmare – not being able to serve customers who are in already your store, wanting to buy.
What if you could solve this problem, and solve it in time for this Christmas – no more queues, no more walk-outs, just increased sales and delighted customers.
Mobile POS can help address the Christmas nightmare, and deliver customer engagement, increased sales and better productivity all year round. Most retailers are aware of the benefits of Mobile POS, and research from Retail Info Systems shows that 84% of retailers have plans to implement it at some point. But many are put off starting by the perceived cost and time needed to get up and running.
With the right approach however, it's possible to trial in weeks and implement across your entire store network in months – which means that if you start now and if you implement a solution that gets you up and running fast, you can be queue busting by December.
In my experience, there are a few key elements to swift implementation of Mobile POS:
Don't over-complicate – just get started. Mobile POS doesn't need to be complex. Think of it as a starting point, and have ongoing enhancements in mind.
Add to what you have, complement it – don't replace it. Mobile POS can sit alongside your existing POS.
Utilise the Cloud to connect your existing systems to Mobile POS – ensure you maintain integrity of pricing and discount data.
Don't forget that integrated payment is an essential element of Mobile POS if it is to deliver real value – you have to be able to offer checkout as well as information.
Use familiar technology so that your staff learn quickly and engage – their feedback is invaluable at the trial stage to understand where Mobile POS is going to deliver most value.
With this approach, a Mobile POS implementation across all your stores by Christmas is a reality, and your nightmare scenario could become a dream Christmas.